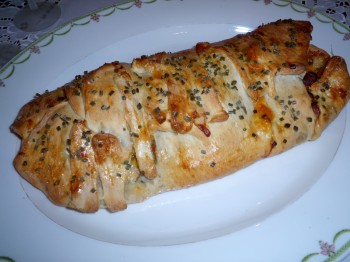 1 loaf of Riches frozen bread
Non-stick cooking spray and saran wrap
8 slices of bacon
½ pound of ham shaved
1 C cheddar cheese, grated
1 C mozzarella cheese, grated
6-8 oz fresh mushrooms sliced and lightly sautéed
1 medium zucchini, sliced and sautéed
1 medium onion, sliced and sautéed

The night before, spray a baking sheet with non-stick cooking spray. Take bread out of the freezer and place on the sheet. Spray the bread all over and cover with plastic film. Bread will thaw and rise by morning.

In the morning, uncover and flatten dough by rolling out right on the cookie sheet, spreading to cover the pan. You might want to sprinkle a little flour on your loaf before rolling. Sprinkle mozzarella down the middle third of dough. Layer the ham on top of the mozzarella, sprinkle a little cheddar cheese, layer the bacon, sautéed veggies and the rest of the cheese. Then take a sharp knife and make 10 slits on each side of the meat/veggie mixture. Lift up the little strips of dough one from each side, overlap the middle section like lattice work. Brush the top with an egg, or egg white, or butter and bake at 350 until brown, roughly 30 minutes.